USE OF OUR HORSES
Our horses are being used as utility and working horses in the wide range of sports disciplines, as well as for recreation.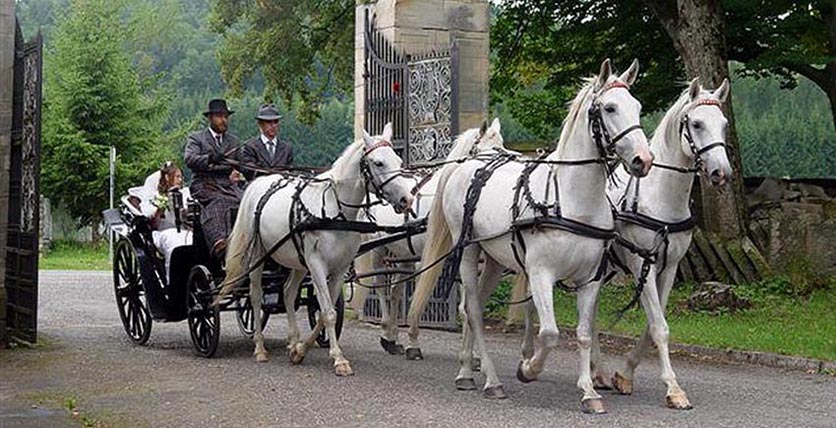 Wedding four-in-hand of our Shagya Arab geldings
WORKING HORSES
Jeníkov stud farm is one of the most significant breeders of Norics in the Czech Republic. Noric's lower weight and higher temper, movability and dexterity make this breed the most suitable for work in rough hilly environment where he can bring maximum performance. He is resistant to unfavorable weather, hard in constitution, with good character and willingness to work. This breed can be used to work in the forest as well as in agriculture.Jeníkov stud farm participates on the encouragement and promotion of cold blooded horse breeds. Within the frame of the Association for ploughing in the CR, which has been existing in the Czech Republic for over 30 years and is part of the international association, in 2003 has been also established section for ploughing with horses.
| | |
| --- | --- |
|   |   |
| Tandem … | Competition of horse ploughing, bred stallion 444 Neugot-I-20 |
HORSES FOR LEASURE TIME
Noric horse has been known especially for his calm nature and good manageability. Noric is suitable for recreational saddle riding for heavier and less experienced riders, as well as for carriage driving and hipo-therapy. While Shagya Arab is more suitable for more advanced riders. By his temperament and characteristics Shagya Arab meets all requirements for all types of equestrian sports and carriage driving.
| | |
| --- | --- |
|   |   |
| 43/83 Soumrak-946 Tann – Sedrik,Vladimír Cerman-Alexandra Bradnová | Gelding Baribal |
| | |
| --- | --- |
|   |   |
| Hřebec Kelvin |  xxx |