HORSE BREEDING – NORIC, SHAGYA ARAB
Jeníkov Stud Farm has been breeding Noric horses and Shagya Arabs. Every year there are 3-5 studhorses involved in the reproduction. Natural covering is carried "out of hand". Mares are checked by sonography after the16th day after the last covering. Foals are born during February, March and April in free stabling on deep bedding. Most of the deliveries happen spontaneously without human assistance. If there are no complications, on either side, within the first few hours after the delivery, the horses spend maximum of time together on pasture lands. Foals are separated at once, as a group, at the age of 5 months at the earliest. Foals are being tattooed while they are still under their mother,  just before the separation. Norics are being tattooed a foal's number, but also an ownership tattoo on the right thigh.


Herd of Shagya Arab geldings
NORIC
In respect of colors, in the herd of Noric horses there are dominant bays with not many signs, but there could also be black horses or dark chestnuts. Following bred stallions have been active at Jenikov: in 1987 137 Neugot from Čimelice, in 1988-90 223 Brahmikán from Němčice.-3, in 1991-93 180 Hubír – 20 , in 1992-3 280 Hubar, in 1994 2298 Fušer, in1995 2296 Hubír -13 a 552 Hulán and 2413 Gopar, in 1996-97 303 Gofun, in 1997-2002 657 Tango – Vulkán, in 2003-04 444 Neugot I – 20, in 2004-13 946 Tann – Sedrik, in 2005 729 Dir, in 2006-08 964 Schifon, in 2009-2012 1331 Sargon , in 2013-14  1441 Nero Bečvanský. Our breed has been significantly affected by the black stallion 657 Tango–Vulkán, imported from Austria, who has been very parturient. His offspring have proved to have his very good character and willingness to work. A number of his daughters have been placed in the primary herd and his son 946 Tann–Sedrik has became a licensed stallion. The total number of Noric horses in the herd is around 60 horses.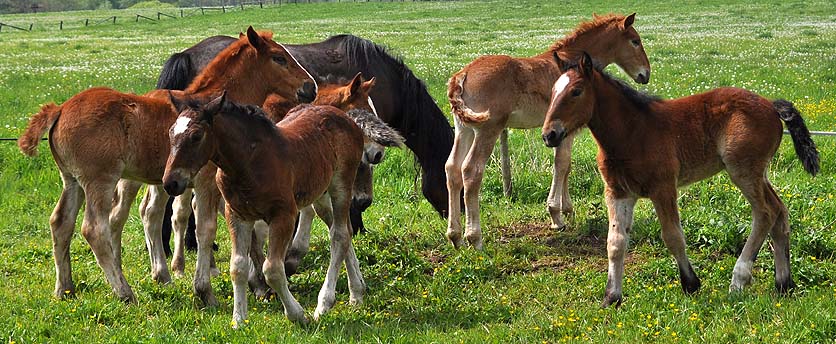 Noric colts
SHAGYA ARAB
The number of mothers in the primary herd of Shagya Arabs is around 25 mares. White horses dominate our herd of Shagya Arabs, with the exception of some bay horses. Our breed comes from the breed of National Stud Farm in Topolčianky, Slovakia. Mares belong to the line no.1 40-LADY SARAH XX, č.6-MILORDKA, no.8- 97 "free breed", no.12-155 BARBARINO IX. In 1995 we imported a 20 years old stallion 3225 Koheilan III-9 from Slovakia that had significantly influenced the breed during the next 4 years. Shagya Arab breeding was also influenced by the following studhorses of our breed, checked in horse driving trials: since 1998 699 Siglavy Bagdady II-CZ /Kadet/, since 2000 780 O´Bajan III-CZ/Dibon/,  since 2003 925 Koheilan VII-CZ/Drak/, since 2014 1999 Mersuch II-CZ.Besides that, we had the following stallions temporarily for one season: in 2004 – 2744 Gazal I-CZ (Alinea), in 2005 – 335 Kasr El Nil-20, in 2006-7 – 743 Dahoman I-CZ, in 2008-2009 1243 Mersuch I-CZ, in 2010 – 2013 975 Koheilan VIII-CZ (Kelim).
Shagya Arab is a late maturing breed, therefore young mares are being registered into the studbook when they are 4 or 5 years old. We train horses under the saddle and in a light carriage driving. Horses of our breed participate in the horse driving trials of the "T" (advanced) level. Such events consist of three parts: dressage, cross-country marathon and obstacle cone driving – timed test of accuracy. Competitions check level of obedience , fitness and even psyche of each horse.
xxx
TRAINING WORKPLACE FOR BLACKSMITHS
An integral part of care of the horses is hoof treatment. Since 2004 Jeníkov stud farm has been appointed as a training workplace for the Secondary Craft School in Jaroměř specialization blacksmith – farrier.
http://www.podkovar-kysilka.cz/kovarstvi.html
http://www.kovari.org/
http://skola-jaromer.odnas.cz/
category: shagya arab / shagya arabian horses / noric / noriker horse